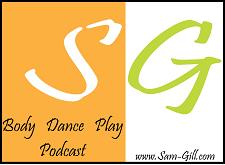 I am excited to make available podcasts on a variety of my ongoing interests.Below is a list of the podcast series that I currently have planned.Those podcasts that are competed and available will show as a hyperlink to allow immediate access to that podcast.Many of the podcasts will also be available in an e-publication form, most without charge.You may also subscribe to Sam's podcast feed to be notified immediately when each new podcast is available.
Podcast series:
Brain Body Movement
SalsAmigos
DanceTALK
Salsa Connection
Brain Body Movement
Sam Gill delivered a series of fourteen lectures in a graduate course "Brain Body Movement" at the University of Colorado Boulder during Spring term 2009.The lectures discuss implications of human embodiment from a variety of perspectives including philosophy, psychology, neuroscience, cognitive science, critical theory, and medicine.He discusses the implications in terms of the academic study of religion, the academy in general, and the way we understand dancing.
Selections from this book are available as a PDF to enhance your listening experience.  Brain Body Movement PDF

Vol 1:IntroductionPodcast
Vol 2:The Meaning of the Body Podcast
Vol 3:Tradition and Change: Memory and Neuroplasty Podcast
Vol 4:Imagination, Theory, Story Podcast
Vol 5:Color and Reality Podcast
Vol 6:Phantom and Reality Podcast
Vol 7:Making, Agency, Action, Artifice Podcast

Vol 8:Self and Other:Proprioception and Exteroception Podcast
Vol 9:Consciousness and Emotion Podcast
Vol 10:Touch, Flesh, and Vision Podcast
Vol 11:Emotion, Depth, and Flesh—Part I: Dancing as Pure Depth Podcast
Vol 12:Metaphor, Gesture, Language Podcast
Vol 13:Thought and Cognition Podcast
Vol 14:The Backside of God Podcast
I taught this course again in the Spring of 2011 and extensively revised the lectures and changed some of them completely.  Since Spring 2009 I have come to understand that "movement" is the central concern in this inquiry and developing perspective.  Thus the title should be something more like "Movement: The Ground for the Brain/Body" although this isn't quite right.  I'll be soon developing these lectures with the aim to make them cohere and develop in some sensible way around the issue of "movement."  I'll not be making podcasts of these lectures, but I do offer them here as PDFs.
2011 Lectures:
SalsAmigos
Sam and his daughter Jenny founded a not for profit called SalsAmigos in 2006.  It is no longer active, yet the information is valuable.In a series of image and video illustrated lectures, Sam presents the results of his research on how the dance form he has developed and teaches to teens contributes to their human development.  The following are flash video slide/video lecture presentations.  PDFs are available of the scripts for each.

Vol 1:SalsAmigos Teen Dance Project:Introduction     Watch VIDEO PDF
Vol 2:Touch and SalsAmigos Dancing     Watch VIDEO PDF
Vol 3:SalsAmigos Dancing: A Different Kind of Team   PDF Watch VIDEO
Vol 4:SalsAmigos:It's Just a Dance!     Watch VIDEO PDF
Vol 5:SalsAmigos:Differences and Disabilities     Watch VIDEO PDF
Vol 6:SalsAmigos Dance and Teen Brain Development     Watch VIDEO PDF
Text for all 6 SalsAmigos lecture presentations      PDF

DanceTALK
Sam has been studying dance throughout the world for many years.In these podcasts he will present a large variety of talks on many aspects of dance from practical discussions of the larger implications of social dancing to sophisticated academic theoretical discussions of dancing as a human action.
Salsa Connection Podcast Series PDF

Vol. 1 Introduction to Salsa Connection Blog Series  Podcast
Vol. 2 What Is The Salsa Connection and Why Don't We Get It? Podcast
Vol. 3 Touch and the Salsa Connection Podcast
Vol. 4 Negotiating the Salsa Connection Podcast
Vol. 5 Eye Contact and the Salsa Connection Podcast
Vol. 6 Music and the Salsa Connection  Podcast
Vol. 7 Women Get Equal Attention…Finally!  Podcast
Vol. 8 The Salsa Connection from a Relationship Perspective for Men Podcast
Vol. 9 For Women:  Relationship Clues in the Salsa Connection Podcast
Vol. 10 Flow and the Salsa Connection Podcast
Vol. 11 Existentialism and the Salsa Connection Podcast
Vol. 12 Thumbs Up! Podcast